Drip or Down: Fashion on the slopes
As winter rolls around and it is time to hit the slopes again, that means breaking out the boxes from storage that contain all the heavy winter and mountain clothes. To some students that may mean the warmest, heaviest, thickest coats they have. But to other students, that means breaking out the warm winter fits so that they can drip on the mountain. This edition of drip or drown explores the fashion choices made by the skiers and snowboarders of Shorewood.
What's more important on the mountain…looking good or staying warm and why?
Oliver Allen (11): "Looking good, because I get a lot of clips, and if I have clips where I have a bad fit, then it kinda ruins the clip."
Nathan Fleming (12): "Staying warm. I think it depends on the weather but overall I think staying warm is more important."
Isabelle Pintea (10): "Like you want to find a good balance because there is hot people and stuff, but obviously staying warm is really important"
Piper VonGunten (12): "I think it's a combination of both, because if you're not warm you're miserable. But you also just have to look good." 
Maddy Costello (11): "Even though people can't see you I would prefer to look good. Like yes, staying warm is nice, but I feel like you can do both"
What is your favorite mountain wear brand? 
Allen: "Arcteryx".
Scarlett VonGunten (9): "Burton"
Pintea: "We go thrifting for ski clothes, so just like whatever is there. We're not super picky about it."
Renee Lehto (10): "I feel like Patagonia has a lot of good gear, but also Burton."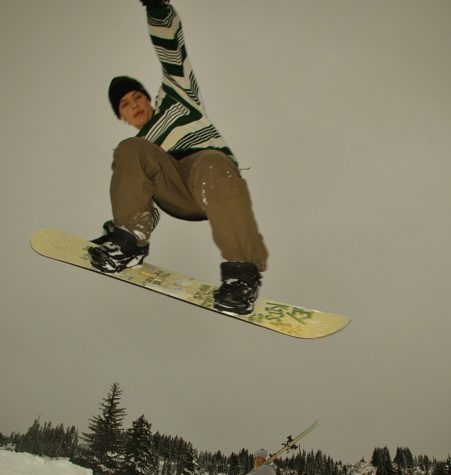 Do you strive for a cohesive fit or do you just wear whatever works for you?
Nathan Fleming (12): "I'll do whatever, I used to wear a full onesie that was black and white..and I had black and yellow skis…I was like a bee." 
P. VonGunten: "Absolutely a cohesive fit, my coat matches my boots… and there's brown in my mittens and my coat."
S. VonGunten: "Well I have an older sister and I just get hand-me-downs. But sometimes she just keeps part of it and I'll get part of it, so it never really matches. But as long as I'm warm and comfortable."
Who is your winter fashion icon?
Pintea: "Eileen Gu, she finds a way to make ski clothes feminine"
Costello: "Hannah Craft"
Fleming :I'll say Hannah [Barnett] because I do respect it. Definitely respect her outfits…I've seen some fits out on the slopes…most fire fits"
S. VonGunten: "I love Chloe Kim and her outfits."
How do you achieve the ultimate drip on the mountain?
Allen: "You just gotta wear stuff that makes you ski good, so you can look good while your skiing"
Fleming: "What's necessary is a helmet, that's necessary, you got to have a sick helmet, cause without one, what are you doing…"
S. VonGunten: "I love it when people wear full suits with a sweatshirt underneath, but I don't do that."
Lehto: "Just be comfortable with what you're wearing and just kinda have fun with it, and don't try and like…match what everyone else is doing"