Pro student and athlete
Hannah Barnett manages to do it all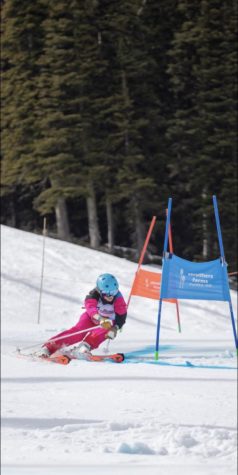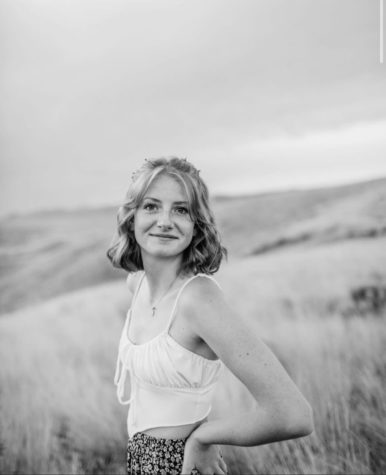 Sliding down the snowy slopes is something she does on a near daily basis. She lives, loves, and thrives on the mountains. Since she was little all she can remember is skiing with her family during the winters. Skiing since she was a toddler, Hannah Barnett doesn't see herself taking a break anytime soon.
"I was basically born on a pair of skis. The first couple of years I had a pacifier in my mouth,"Barnett said. 
Barnett's parents encouraged her to start skiing from a young age. "My dad was a ski instructor and there would be no weekends that we wouldn't be skiing. I don't have a single memory in the winter where we were ever home–we were somewhere else, which I think is so awesome," Barnett said. 
However, skiing on the weekends was not enough for Barnett. So when her parents offered her the opportunity to join a racing team she was ecstatic. "When I was 6 my parents asked me if I wanted to be on the race team. And obviously, who wouldn't? So I was like yeah let's do racing," she said. 
Barnett did just that and joined the Mission Ridge FIS (Federation of International Skiing) Ski team. Racing along with friends she has known since she was little, she said, "It's like going on a giant playdate while skiing every weekend, so why wouldn't you want to do that?" Barnett has been able  to create lifelong connections with the people who are on her team.
With skiing taking up so much time in Barnett's schedule she has had to find a way to balance it with school. "It's definitely taken a toll, and I've had to do a lot of communication with my teachers. I'm skiing 3-4 times a week so it's a lot," she said. 
Even missing several days of school a week does not stop Barnett. If anything, it just gives her more of a challenge. "If I have night training at Snoqualmie Pass I know that the chair lift is a 10-minute ride so I can do my homework on the chair and then ski," she said. Planning out her schedule minute by minute, Barnett makes sure she is able to stay on top of her work while keeping up with her skiing career.
Skiing has become more than just a sport for Barnett. Along with the people she has known since she was little, Barnett helps her ski team with various projects. "We do all sorts of stuff. We have auctions, and road cleanups and as much as skiing is a sport it is also everything else," she said. The community that Barnett has built with skiing is one she will continue to cherish for the rest of her life. Barnett encourages people to continue skiing throughout their life and if they never have she encourages them to "SKI!!"
Barnett is excited for her future in skiing even though she is not exactly sure where it will lead. She said: "I don't know if I will race as much in the future, but skiing is a lifelong sport. I don't think I will ever stop skiing."