Susie says goodbye
Shorewood Swim Coach has retired after 33 years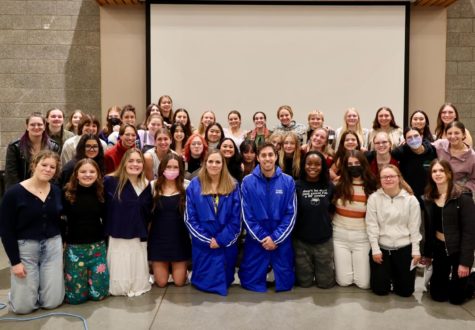 A normal high school swim baquet turned into a monumental event for Shorewood Athletics this fall when girls swim coach Susie McDowell gave an unexpected retirement announcement. It was pure shock from the swimmers, parents, and even Athletic Director Joann Fukuma, and assistant girls swim coach Jeremy Hunter as nobody in the audience had a speculation that McDowell's 33rd season would also be her last.
The surprise announcement was a surprise to her athletes to say the least. "Everyone was just so surprised. No one had any idea," said junior swim captain Emily Lin. "No one thought it was ever going to come." 
McDowell took over the program in 1989, directly after swimming for four years collegiately at the University of Washington, and would stand by the program every year until 2022. She went on to remain fiercely loyal to the Stormrays through different challenges including starting her teaching job and the birth of her two children. McDowell said a significant challenge was the loss of the local pool. "The main thing that changed over time, and it was recent, was the change to our outside venue with our loss of the Shoreline Pool. Weather concerns, lack of extra space and capacity for diving became new challenges," McDowell said.
McDowell's achievements with the Stormrays include having coached every record on the record board with the exception of one. She has coached multiple swimmers to state championship titles, and WESCO titles. However, even with the numerous accolades she has collected, her "favorite part has really been helping kids find a place for themselves and also watching them learn to contribute to the team, no matter their skill level," she said.
Her final season ended with a team 2nd place finish at the district championships, an impressive feat with the absence of diving points. The Stormrays also qualified for the state championships in six different events including three relays. It was a true idyllic ending for such a successful career.
Looking forward to her future, McDowell will remain in her role as a 2nd grade teacher at Echo Lake Elementary School. "My teaching job will probably just fill in the extra space in the fall." She also looks forward to the free time that will come in the summer, as the swim season starts in mid-August. "I hope to have more freedom to visit family that don't live in the area, and also to exercise and maybe get back to my own swimming again," she said.
And as for the future of the program, they will begin the adjustment process that comes with a new head coach. "I think it's definitely going to be very different, but I think it will be really interesting, not good or bad but it will be exciting to see what another coach could bring. We'll definitely miss Susie," Lin said.