Ava Enriquez: top tier gymnast
Roundoff, back handspring. Stick the landing. Smile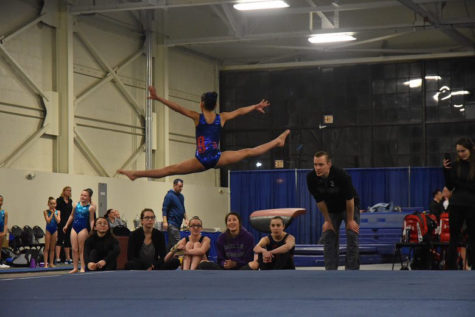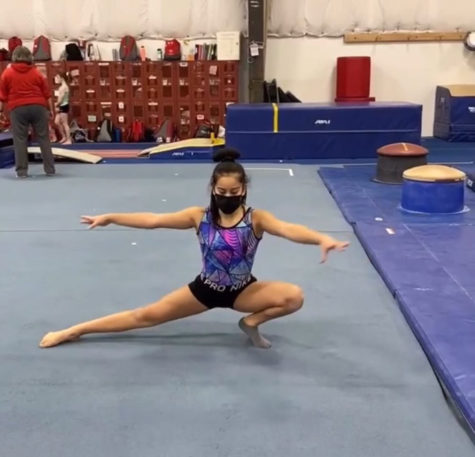 It's 5 p.m. on a Tuesday, and gymnast Ava Enriquez is practicing her floor routine at Gymagine in Mukilteo. Enriquez, who is only a sophomore, has already had a monumental gymnastics career. Not only has she been a club gymnast since kindergarten, competing at nationals multiple times, she also found a community in the Shorewood Gymnastics team and even became captain as an underclassman. Enriquez's accomplishments have affected many people besides herself, bringing attention to the importance of Shorewood's gymnastics team– despite it often being overlooked in favor of other more traditional sports.
Enriquez, like many other successful gymnasts, joined the sport at a young age. "I was bouncing off the walls, doing flips at home, you know," she said. "So my mom decided to put me into little kid classes, and my progress increased rapidly. I joined club gymnastics around age 6 or 7 and was in it until age 14." 
Despite Enriquez thriving at Cascade Elite, a club in Mountlake Terrace, she eventually quit and took up high school gymnastics instead. "It was just really hard on my body, and the environment was super intense," explained Enriquez. "While I wouldn't change anything, it was time for something new."
Within her first few weeks of high school gymnastics, Enriquez made a huge impact on the Shorewood team. "Ava brings a lot of positivity and light to our team, she is a natural leader and never fails to make people laugh," said Emily Pederson, a fellow teammate. "She's always down to help anyone learn a new trick and give pointers, and she really helps make our gymnastics community a tight-knit group." 
Both Pederson and Enriquez have been on the team since freshman year, and this is their second year together. Although the Shorewood and Shorecrest gymnastics teams practice together, meaning that not everyone is familiar with one another, Enriquez always manages to talk to new athletes and help them feel included.
While Enriquez has been battling some injuries and doesn't quite know what the future will hold, she is determined to make this season as good as her last. In 2022, Enriquez finished in the top 2 at Districts for all four events, and placed at State, being the only Shorewood gymnast to do so. In addition, she tied the Shorewood floor record with a 9.5 and topped the beam record with a 9.45, both very impressive scores. 
However, intense tumbling comes with a price, and Enriquez was forced to take a few weeks off of gymnastics this winter season to focus on her health. "It's been difficult with my knees being injured, but I'm hopeful I'll be able to continue the season,"  Enriquez said. 
Despite these setbacks, she continued working out at the gym in whatever ways she could, keeping up her strength for an eventual return to gymnastics. 
Though Enriquez's future may be uncertain, one thing is for sure: she will continue to inspire her teammates through her dedication and perseverance.