Mariners Memories
After 21 years, the Seattle Mariners returned to the playoffs and ended their infamous drought
Like when Mt. St. Helens erupted, or the Kingdome toppled, Sept. 30, 2022 is a day that most Seattle sports fans will remember where they were when a baseball was rocketed to right field, ending the 21-year playoff drought for the Seattle Mariners. The sold-out T-Mobile Park crowd, approximately 45,000 fans, rose to their feet. The 21-year-olds in attendance drinking a ballpark beer had not even been born the last time the Mariners were in this position.
This season the Seattle Mariners ended what was not only the longest playoff drought in the Major League Baseball organization but the longest active playoff drought in any major North American sports league. To put this in perspective, the last time that playoff baseball was played in Seattle, Shorewood was in a completely different building. Baseball coach Coach Wyatt Tonkin was in his third year with the (then) Thunderbirds, and senior Mariners fan and baseball player Henry Riemer Buffalo was not born yet, similarly to senior baseball captain Logan Anderson.
Any baseball fan living in the Seattle area frequently heard about "The Drought," the term referring to the Mariners absence from the MLB playoffs. "We were talking about it pretty much all season, from the beginning. Like, 'This might be the year [that it ends],'" Anderson said. 
"When I would watch…the MLB analysts they talk about like 'oh the Mariners you know this drought they haven't been to the playoffs in like 20, 21 years' and I was like that's actually crazy that's a really big drought," Buffalo added.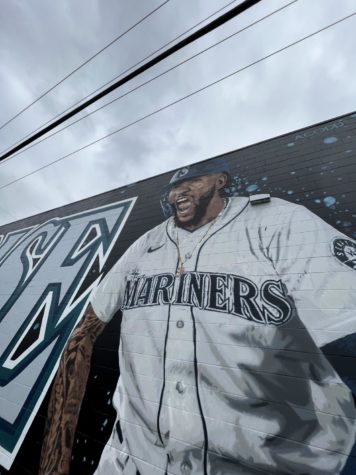 The baseball environment in Seattle this year was so electrifying that T-Mobile Park even earned the nickname "The Electric Factory." "It was insane…it felt amazing," Buffalo said. And the energy from the regular season only carried into the postseason, "It didn't even feel like any game I'd been to before, it felt so different…I'd never seen anything like that in Seattle," Buffalo said.
The initial reactions from Mariners fans was embodied in Buffalo's reaction. "I was watching the game at home. Me and my parents were just sitting, staring at the TV. We were just, like, kinda biting our nails you know…I just remember we just saw it keep going, like oh my god he actually did it. Just screaming like jumping around," he said. 
Anderson's initial reaction was full of the same excitement, "I think I was playing baseball, then I heard about it after. I was super excited…I've always loved baseball but it's never been a big thing, so it felt exciting in Seattle to have a Major League Baseball team doing good," he said.
Although the Mariners ultimately got knocked out of the playoffs in the American League Division Series, they have provided hope for the city, and memories to last a lifetime. And as Coach Tonkin said, " I think Seattle has proven that it can hold its own as a baseball city."