Highland Ice Memories
Nostalgia, that is the feeling you got when you stepped into Highland Ice Arena. The smell of the ice, the banter of kids and adults and the sound of skates on the ice just gave you that certain feeling. Highland provided skating sessions, group lessons, figure skating, hockey, parties, and more. After 60 years of service to the community, Highland Ice Arena, which opened in 1962 by James and Dorothy Stephens, has just recently closed Oct. 15, 2022.
Pat Barlow, a former employee who taught the Learn to Play hockey programs, was originally a customer at Highland Ice Arena when she brought her son Jeremiah when he was just 3 years old in 1999. She started working at Highland in 2010 and her first day was on Halloween. 
According to The Seattle Times (Shoreline's Highland Ice Arena to close this week) and  James and Dorothy Stephens memorial booklet, Owner Dorothy Stephens was a traveling performer in the Ice Capades which were traveling entertainment shows featuring theatrical ice skating performances. Her husband James Stephens was a very accomplished skater and a future member of the Curling Hall of Fame. After meeting at an ice arena in Lachine, Quebec, falling in love and getting married in 1944 they moved to the Seattle area after the war. Their dream was to have their own rink and they bought land in the Shoreline area to do just that.
James and Dorothy Stephens eventually passed over the responsibilities of the rink to their children, Terry and Rick Stephens. After the death of James Stephens in November 2021 and shortly after Dorothy Stephens in January 2022, Terry and Rick Stephens made the decision to sell, a decision that had been in the works for a few years.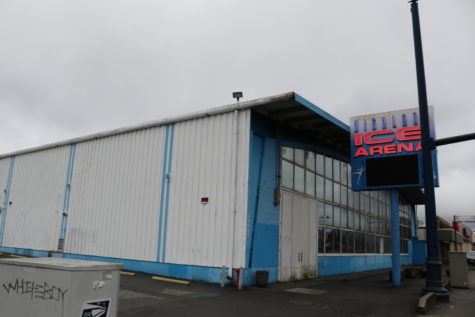 Denny Fleming, sophomore, went to Highland with his Dad and brother for stick and pucks before Covid-19 hit. "It was definitely sad to see it go but the condition it was in, it probably should have closed, Fleming said." He said it is also unfortunate to lose the only rink that is within the area. "Now that it's gone the connection between hockey and ice skating will dampen because of its loss and how convenient it was."
Sibling owners Terry and Rick Stephens gave Barlow the platform to teach in small groups. She also facilitated a Friday night skate that she did for 22 years. This is now gone because there isn't any other rink that is local and does that. 
 "There are a lot of Shoreline locals that are really sad that Highland closed because it's a loss and there is grieving that goes along with that," said Barlow. It's not just the hockey players and figure skaters, it's also the frats and sororities that rented out the rink at night for their big broomball and holiday sweater parties. Shorewood High School will also have a specific loss. Before the pandemic kids used to be able to take skating for PE class at Highland. "Whole groups of kids would come over," Barlow said.
"Highland was our little piece of heaven, a haven, cozy home and like community for me," said Barlow. We are all losing a little piece of this.